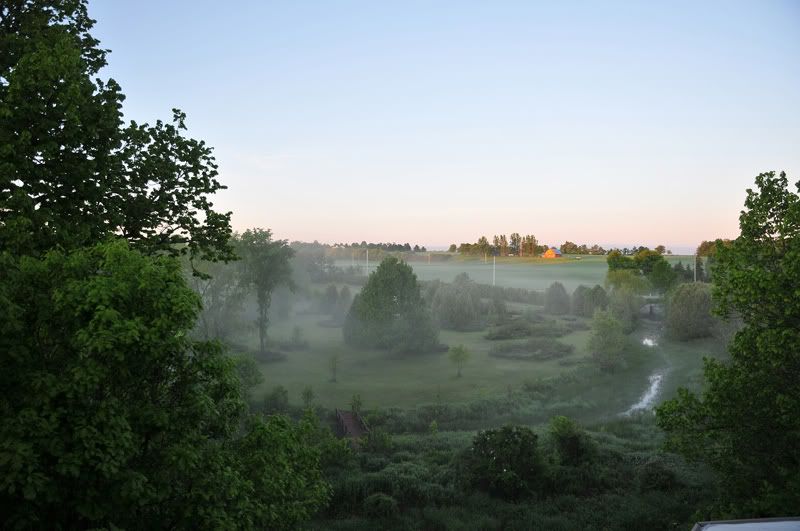 I can't believe this is already the 100th post since August of last year (actually there are more than 100, as the Australia posts are elsewhere)! The idea when I started this blog was that it would be a record of life by the creek...a personal diary of the sightings and the changes that happen seasonally.
However, almost immediately it became the place to put 'Bunny', the new poodle addition, as I didn't feel my sheltie website was the place for all the poodle pictures. The shelties joined in and I added a link from our site and it was public in September. We started to get lots of positive feedback and it seemed people liked seeing the dogs in their environment!

A group of friends and family followed along on our month long trip to Australia; a challenge to blog while on holiday and often being without Internet access. But when we did have Internet it was fun to post the pictures and read the comments. When we returned I put these photos over on our travel blog.
After a while I felt the blog was getting too poodley and I made a separate blog for them; a third blog!
A new template allowed large format photos which then challenged me to try to take better photos. It has evolved to more of a photo blog at this point...but since it is always changing and flexible; who knows what is next.

The blog has been a forum to share pictures, successes and losses; though I wonder sometimes how smart it is to have such a public private life. It certainly has allowed me to meet some great new people; allowed family to know what I'm up to, pushed me to be more creative, but the downside is that failures are also public. The drawback is that you show too much and open yourself up to criticism. Oh well, I'll risk it.

So back to the beginning; life by the creek. Having lunch the other day, I spotted a doe on the island and a wild turkey. By the time I got the camera, the turkey had gone, but the doe was still eating basswood on the island. I looked up and saw another further away in the field.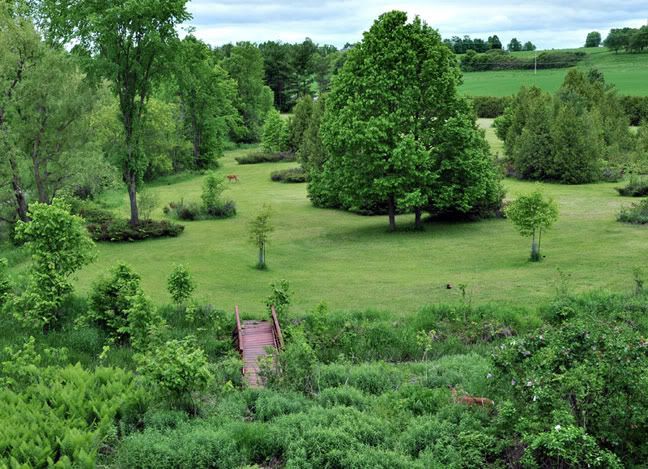 She stared at me for a good five minutes. I don't think she blinked!
I walked away and gave her an opportunity to leave if she wanted...(which she did).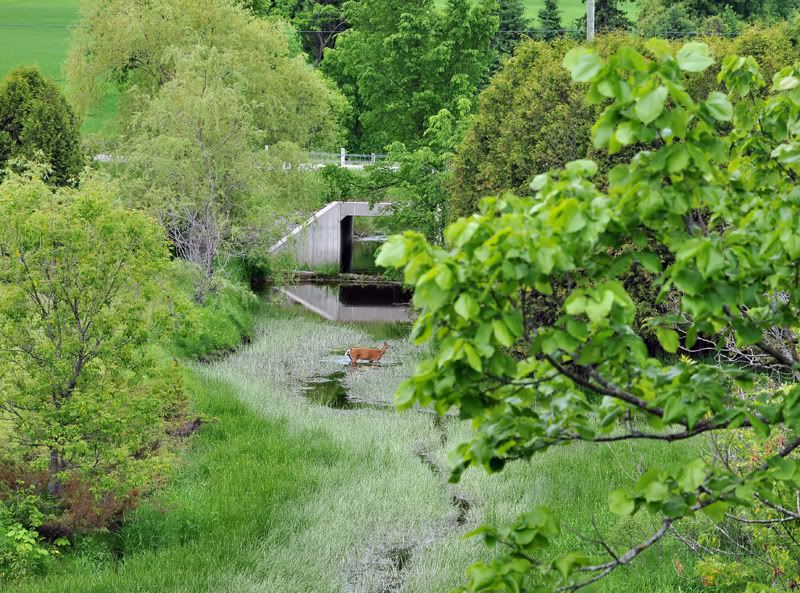 Heading over to the cedar island. We have seen in years past a doe with twins coming from this area. We're hoping we see some babies this year as well!