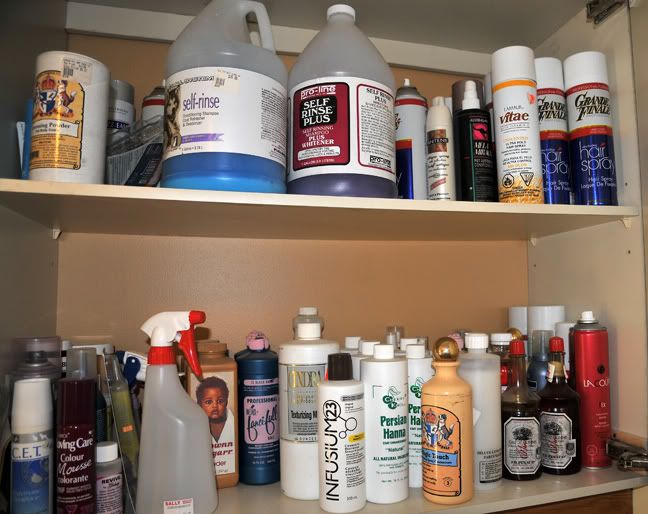 I was inspired to do this post when I saw on Jo Ann's blog her tack box laid out. I was so sorry to have missed her grooming seminar...and it was only 15 minutes away! It sounds like it was a super weekend for Sheltie and Collie folks.

When I was packing up Bunny and her gear heading out to the Poodle grooming seminar I looked in my cupboard and wondered what I should bring to groom a Poodle. We have products of all description collected over the years. Whatever product a handler was using at the time, whatever was the latest and the greatest. Not only do we have one bottle of a certain product, but we have multiples of things I haven't used in years. Penaud, Persian Hanna, Cindra products and enough hairspray to last a lifetime! I ended up taking a small plastic case with two scissors, two pin brushes, two combs and a slicker. A spray bottle of water with conditioner as well. That was all I ended up bringing with me, and honestly there wasn't anything I felt I was lacking. If I was going to a show, I'd have to up the ante and bring a bit more gear...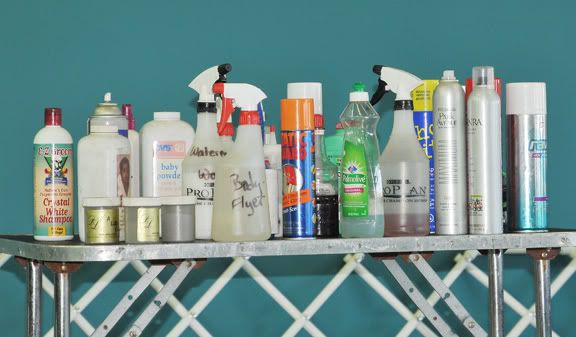 I smiled when I saw Alan Waterman's table full of products used to groom Poodles; it looked pretty similar to my collection in the cupboard, but with a few additions (which naturally I ran out to Sally's to pick up). Interesting was the fact he bathes his dogs in Palmolive, and if they are really greasy then it is Dawn dish soap. I have heard of this before, but have never tried it. So note to self...buy some dish soap for dogs. ha ha

Another difference is that with Poodles, they take the hairspray out after each show, and there is a product for that application (which I'll have to buy now as well).

Despite the extraordinary amount of products stockpiled; I feel I really don't use a lot of stuff. (Though I think my overseas friends might have a coronary looking at this!)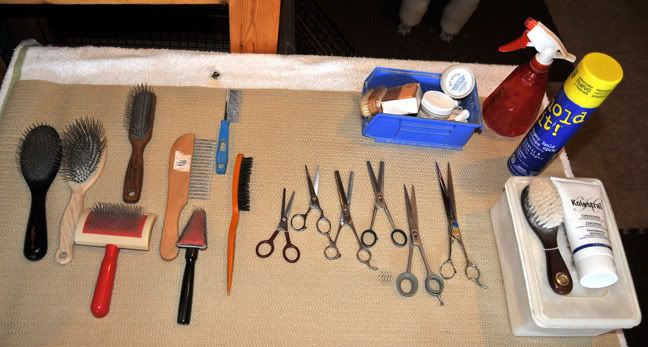 I looked in my tack box and laid out the things I reach for when grooming for show. Also I usually have three spray bottles at a show, one with water, one with conditioner (this varies depending on which dog I'm showing at the time) and one with Self Rinse. I think I'm missing baby powder and hair gel in this picture.
Along with my tack box, I have a grooming apron and several towels, dog food, bowls, show clothes, extra crates and x-pens. Directions, rabies certificate and passport if going to the US.
I have a dremel for the nails, and that is done before the show, so I don't have to bring that along. The teeth are scaled also.
So what is in your cupboard?