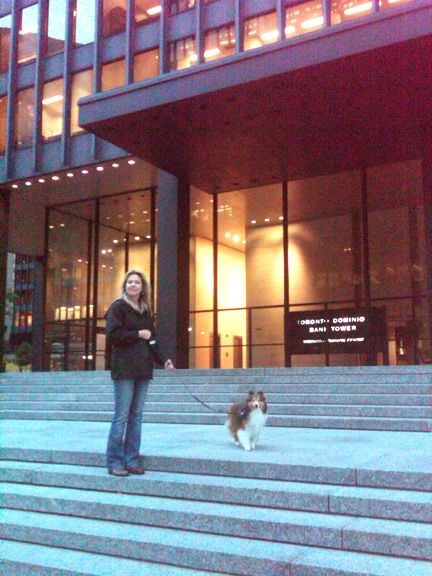 I had two girls entered four days in Stockton NY (south of Buffalo) and planned on bringing Paris, Cocoa and the two youngsters along for socializing. Car packed, I did a MapQuest search Tuesday night to find the best route. Travel time was estimated at over 7 hours going via Syracuse or 8 1/2 hours through Canada. By that time, after washing the girls and packing I didn't feel like going at all! Pete suggested I call my friend Brenda and meet somewhere (like Hamilton) on Thursday and drive the last leg together in one vehicle. I ran it by Brenda and we were able to park the car at a friend's, so it seemed like this was a go. Since I had to fit my dogs/gear/luggage in Brenda's Van, I decided to leave three at home and just take Cocoa. It was a decision I was later very glad I made!
Wednesday I drove through some torrential rain, but it was nice and sunny once I got to Toronto. I didn't bring the camera, so these grainy photos are taken with Pete's cell phone!

Toronto was preparing for the G-20 summit, so the city was getting fortified with chain link, concrete barriers and the cows were gone!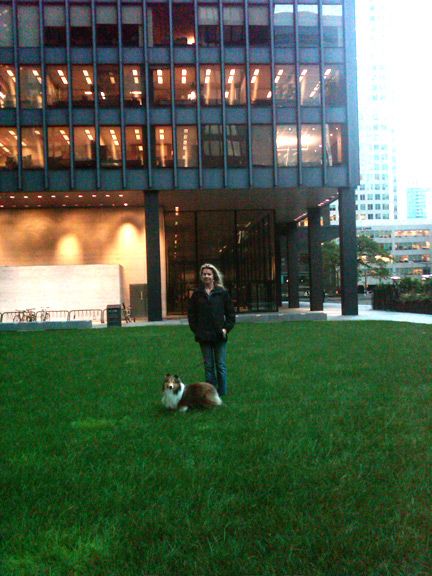 In this patch of very long grass are usually five grazing bronze cow sculptures. They were removed for security reasons. I exercised Cocoa here in the afternoon while it was full of people, and she was not at all phased by city life. Later on (when these shots were taken) I wanted to find where they put the cows. They had been relocated across the street to a very small patch of grass. I took Cocoa over to see them and she went "whoa what the heck are you doing here?" She was scared of them, and then she was edgy on her walk after seeing the creepy farm animals!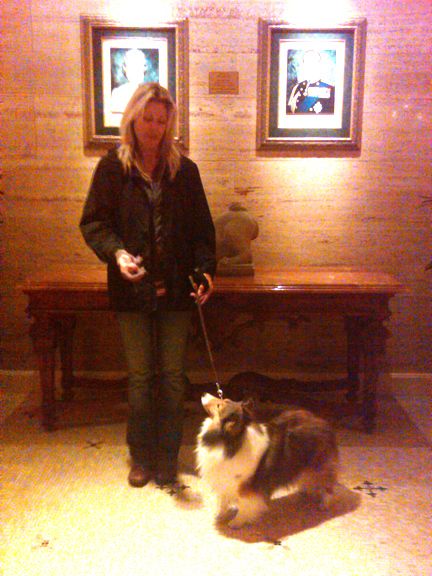 In the lobby of the Royal York Hotel. She was a perfect guest...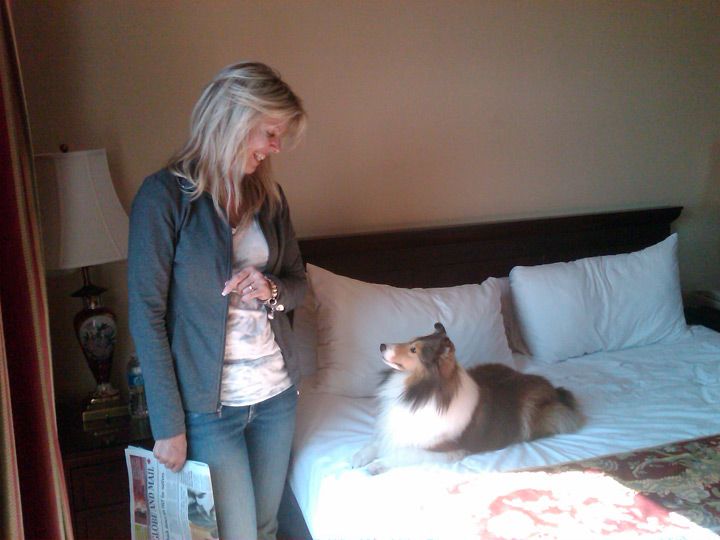 She loved the bed...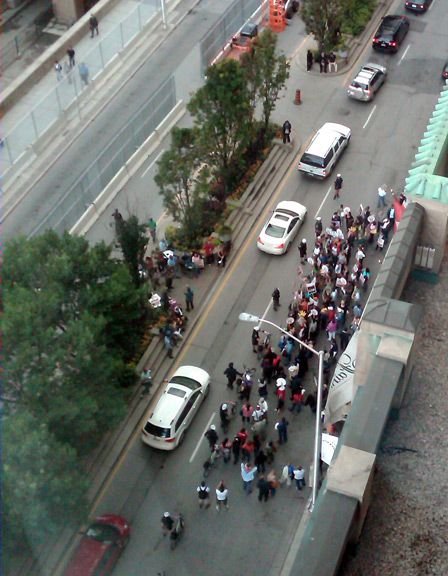 Out the window there was a demonstration. Drums banging, chanting. It was hard to know what they were going on about...but there will be plenty more of that in the next few days... You can see the barriers between the train station and the hotel. The police were out in force on bicycles and they were also in the lobby by the entrance. It was a little unnerving.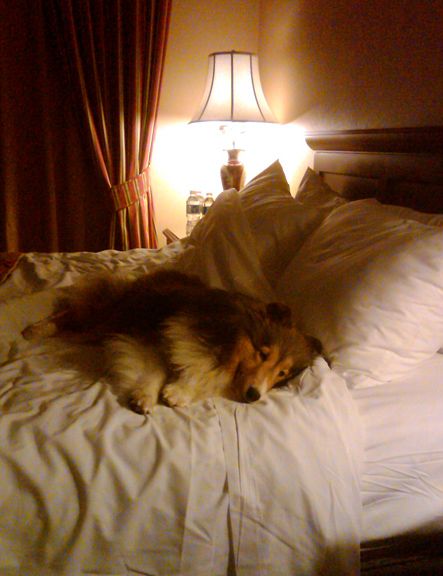 She could get used to this life!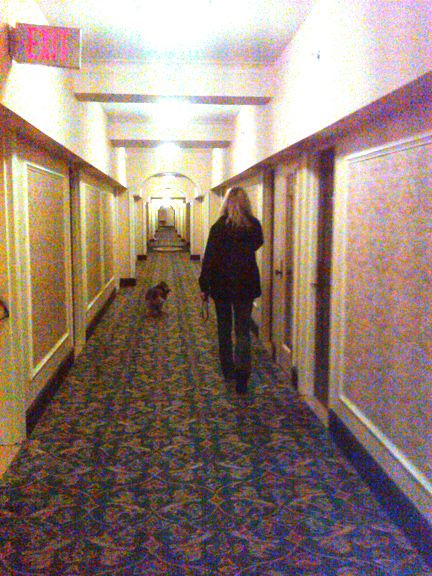 Cocoa looking for room service...
(((From here the story has no pictures...)))
The following morning we called for the car and when I got down, the Valet said "you have a problem". Yep...a flat tire. He found a pump and pumped the tire while I exercised Cocoa and then when he tried to put the stopper on the valve, the air kept coming...we had a leaky valve. So with the morning subway commuters looking as they marched past, the Valet changed the tire. I called Brenda and said to go on ahead. "Oh no, that's OK, I'll wait" she said.
Off to the dealer to fix the valve in the tire. Cocoa came out and we went to the show room. This dealer also sold Aston-Martin's and I suggested to the receptionist that perhaps they could give me one since I shared the name! (hahaha) An hour or so later I'm underway. I call Brenda to let her know I'll be there in an hour. Ten minutes later I'm calling her again...bumper to bumper traffic! Once again I urge her to go on without me, but she wouldn't hear of it.
Finally I make it to Hamilton and we load my stuff (lots and lots of stuff) into her Van. It is going to be tight to make it to the show on time and I'm counting the dogs in front of Shelties and determine we could possibly make it. Brenda gets us there with five minutes to spare! The Old English Sheepdog is in the ring and then as we are changing I see the Shelties beginning. A quick spritz to dampen the girls coats and off we run to ringside. Some frantic brushing and in we go. Sable girls are first and Cocoa wins the class and then Brenda goes in the big AOAC class with Keva and she wins also. Back for Winners and Cocoa takes the points with Keva going reserve!
We show the next day with Keva going reserve and the judge thinking Cocoa is fat! (She wasn't fat, she was fluffy) :-) We stay to watch groups and BIS, and I notice my arm is starting to swell. The swelling continues and by morning it is clear that I can't show that day and we make plans to pack up after Brenda shows her girl and finds a handler for Cocoa. Keva once again takes reserve and Cocoa wins her class. She finds handlers for the Sunday show and a ride back to Canada with breeder-friends.
As Brenda is from London and works at the Hospital there, that is where we went. A few hours wait in Emergency and they were pretty sure my arm was infected and that I'd be staying a few days. I have to admit, I was pretty worried as the swelling continued despite the antibiotics. However, the next day it was determined it was thrombosis so they put me on blood thinners and I was discharged Monday afternoon..
Brenda got home from work Monday and drove me to Hamilton where I spent the night with a dear friend. I got home finally on Tuesday with Pete meeting me in Perth...he'd been so worried the entire time, he couldn't wait any longer!
We're having a quiet couple of weekends and then might get going again to shows mid July.
Thanks to all the fellow exhibitors for helping out and my deepest gratitude to Brenda (for everything.)