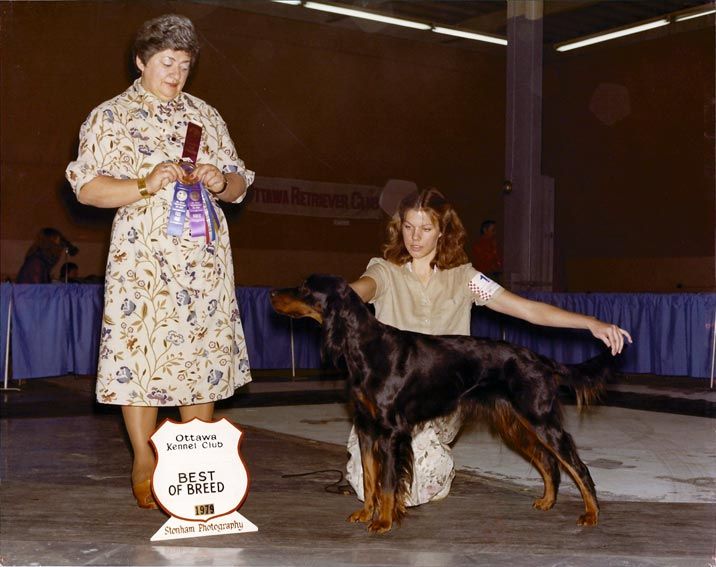 When I was sixteen years old, I worked for my Mom and my friends parents one summer cleaning house. I think I made about $2 a day and put it in a shoebox. I loved counting all my money, as I had a goal in mind; I was going to buy a dog! I researched the breeds and decided I wanted a big dog, one that would jump up and slurp my face...something our Sheltie Dusty couldn't do (being too small, and too dignified to do any face slurping). So we went to a local breeder and chose a male puppy, which I named "Tristan". Sadly Tristan was killed on the road at a year of age, and I was absolutely distraught. My parents where very upset also, and so we called the breeder, Margaret Bocking, and she was very gracious to let us have Tristan's litter sister...this was special to me, as they had been born on my birthday.
So Shelagh (pronounced Sheila) came home and we loved her from day one. She was so sweet, and much easier to live with than her brother had been, so it eased the grief of losing him. She was a quirky girl, was afraid of vacuum cleaners and if riding in a car, she had to travel up front on the floor on the passenger side. It didn't matter where she started, or if there was someone sitting up front...they had to move their legs to let her curl up in front. She didn't like to see where she was going, and would stress pant the entire time. She loved squirrels, and could hear mice under the snow and would pounce on the snow. She loved to hunt...it was instinctual. Her registered name was Ch Grianan Keltic Shelagh, CD (dog world award).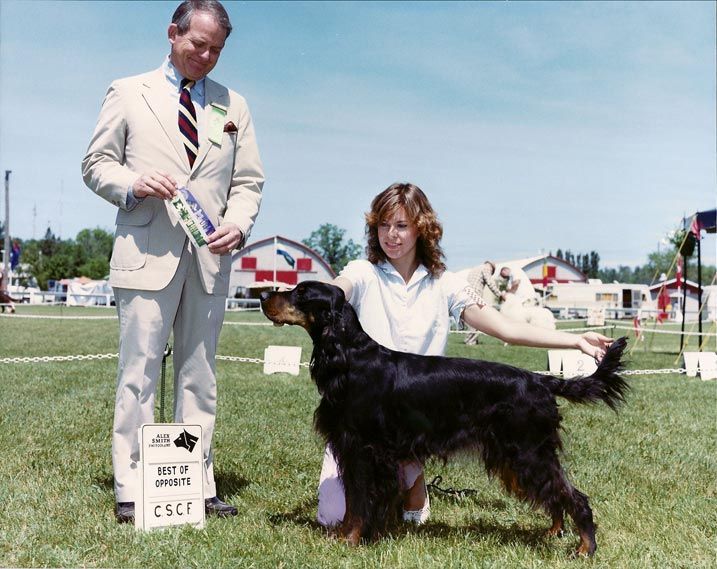 One of the conditions of sale was Shelagh had to be bred and the breeder had the pick puppy back. I was able to choose the sire and raise the puppies and it was a real learning experience! Margaret chose a puppy as her pick, and I chose "Morgan" as one I'd like to keep. She is shown finishing here in 1983. Her name was Ch Grianan Morgan...as I didn't have a kennel name at the time. I did register a kennel name with CKC for my second litter, and that kennel name was Spiritrock.
I had this photo in my bedroom at home. Shelagh doing her "Bambi" impression!
Both Shelagh and Morgan passed away the same year (1986)...the year we bought our first home. We wanted another dog, but didn't have a fenced yard at that time (a necessity with the Gordons). So in 1987 we got our first Sheltie show prospect, and the rest as they say, is history.